Clipper lighters. What makes them so special?
The Clipper lighter is not just any lighter - it is a unique, environmentally friendly and multifunctional device. Clipper was the first original refillable lighter and has been made in Barcelona, Spain since 1972. Its unique round shape and special features have made it popular in more than 80 countries and is the world's best-selling lighter.
Don't feel like reading? Click here to go directly to our range of lighters.
Multifunctional
Clipper lighters are made of high-quality materials and are available in several versions. Of course, this lighter is used to light cigarettes or a fire, but there are more things you can do with a Clipper.
Pushing tobacco into hand-rolled cigarettes. You do this with the removable flint system.
The bottom of the Clipper can be used to push the tobacco into pipes.
The Clipper fits perfectly in a beer bottle to prevent someone else from accidentally picking up your bottle and drinking it.
Opening beer bottles
Much much more.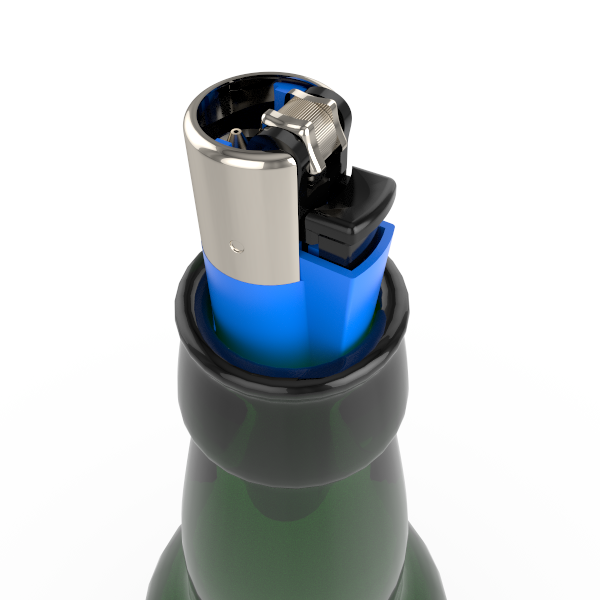 The Clipper lighter fits perfectly in any beer bottle. Great if you want to know which bottle is yours, and where you left your lighter ...
Clipper lighter vs BIC.
Both the Clipper and the BIC are widely sold worldwide, and perhaps because BIC also sells pens, this brand is better known to us. But does that also make the BIC a better lighter? In our view not, and we'll tell you why.
Clipper lighters are refillable
The Clipper lighter is basically a disposable lighter, but why throw this great lighter away when it's empty? You can just fill the Clipper lighter with butane gas if you want.
Replace flint stones
A flint in a lighter will shorten over time and will need to be replaced. For only 1 Euro you can buy 9 new flints. Flint replacement is quick and easy.
Constant flame
You know. For some reason, you accidentally increased the flame, and lit a cigarette almost scorched your eyebrows. This is impossible with the Clipper lighter. You can only adjust the flame by tilting the Clipper to bed. Turn the lighter down and the flame gets bigger.
Clipper also works when the lighter is wet
Did you leave your lighter in a rain shower? Nothing wrong. Simply remove the firebrick holder and dry it. Your Clipper lighter will then work again as if nothing was wrong. This also makes the Clipper the best lighter for campers.
Buy Clipper lighter online
Are you convinced and do you also want to buy a Clipper lighter? Our range has already been expanded, but is still growing with new models. You can easily order the lighter online. Also useful is the bundle offer that we have in which you get a set of 4 or 5 lighters, a bottle of butane gas, and a set of flints. Do you want to know more? Click here