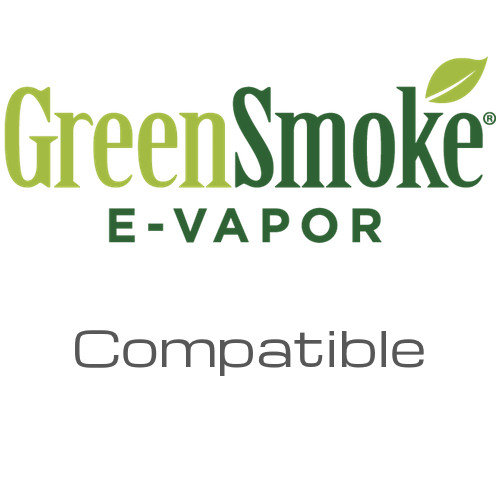 Cig-a-likes are e-cigarettes that really look like real cigarettes. This makes switching to vaping much easier. Since these e-cigarettes offer a great feel, you will not notice any real differences, except for the lack of...
GreenSmoke
Green smoke is an American manufacturer of electronic cigarettes. The company was a worldwide market leader regarding the two component electronic cigarette. This e-cig was the most popular e-cigarette of Europe until recently. Unfortunately, the GreenSmoke e-cigarette is only available in America due to the take-over by Altria. Fortunately, there are alternatives that are compatible with the cartomizers of this brand. Do you already possess a GreenSmoke e-cig? No worries! Our compatible e-cigarettes and cartomizers are a hundred percent equal to the original GreenSmoke e-cigarette so you can continue enjoying your favourite electronic cigarette.
Alternatives for the e-cigarette of GreenSmoke
Do you want to shift to an e-cigarette? Our GreenSmoke compatible e-cigarettes are a good choice. The e-cig is user friendly and there is no risk of spilling thanks to the two component system (battery and cartomizer). Brands that are very similar to GreenSmoke are Easypuff, Vinto Vape and Atlantic Aqua. You have the feeling as if you are smoking a real cigarettes but then without the disadvantages of tar and carbon dioxide. Moreover, you get life-long guarantee on the batteries of our e-cigarettes with Novus Fumus so that you are guaranteed of many years of vaping.

Were you very satisfied with the e-cigarette of GreenSmoke and are you seeking out for the best alternative? Contact Novus Fumus for personal advice. You can contact us seven days a week from 08:30 AM until 10 PM by phone, e-mail or chat.